Skip to Content
The Quality Car Washes Michigan Counts On
Fast Eddie's Wash and Lube provides you a great car wash experience every time. Our 17 Michigan locations make car washes easy, affordable, and convenient, providing you the customized car wash options and services you need to maintain the beauty of your vehicle without compromising on value or attention to detail.
Family owned and operated, our car wash and detailing centers deliver a fast and stress-free car washing experience at a value you won't find anywhere else. We believe that every customer deserves professional-quality car cleaning exactly the way they like it, which is why we aim to provide 100% customer satisfaction during each visit.
We offer a variety of quality car wash packages to keep your car shining the whole year round. When you choose Fast Eddie's to clean your car, you're going with one of the most trusted names in car care and cleaning in the state. We value your business, and look to be the name you trust for car wash and detailing for years to come.
Custom car wash packages
We strive to provide you with an amazing car wash experience, every time. Our professionals focus on the details and deliver the fast, expert car washes every customer deserves.
Each Fast Eddie's car wash package is designed to meet your unique needs and to deliver the quality and value you've come to expect from the best in convenient, affordable car care in Michigan. Fast Eddie's uses soft cloth and foam products. We use the latest technology and top of the line chemicals to help protect your vehicle for the harsh Michigan weather. When you visit us, you get a level of selection and service you won't find anywhere else.
*prices may vary per location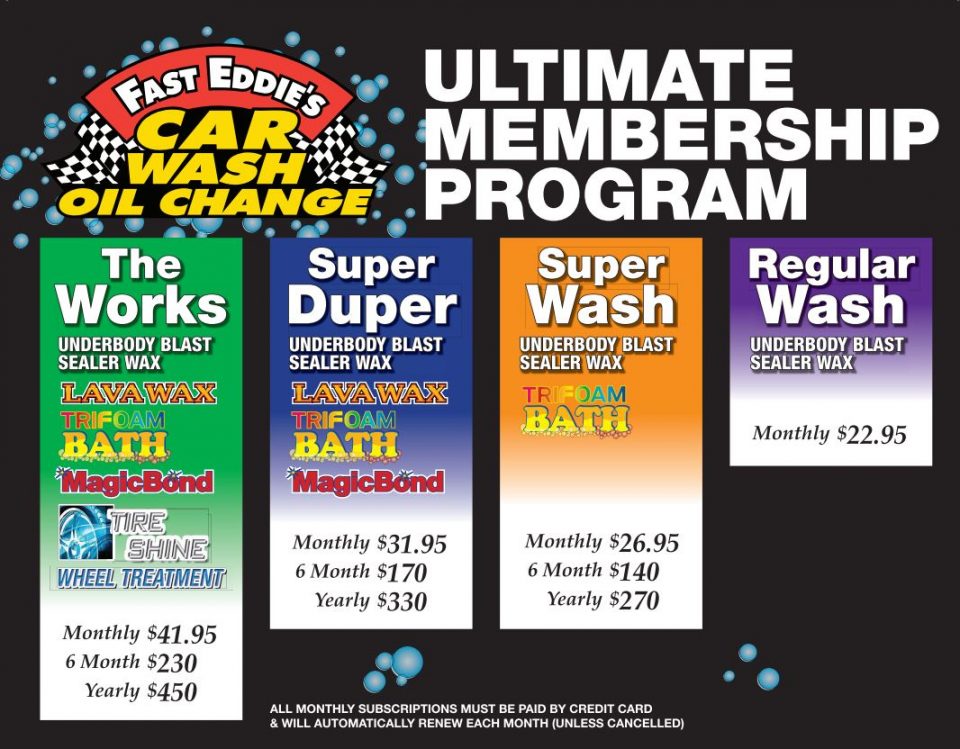 Unlimited Car Wash Membership
For our more frequent washers, we offer the incredible value of our Unlimited Wash Program.
Membership is good at all 17 locations across the state.
Different tiered memberships to fit all of your needs.
Wash your car every day.
Membership is vehicle specific.
When you sign up for a monthly, 6-month, or 1-year Ultimate Car Wash Subscription, you get the ultimate car wash experience at an unbelievable price, ensuring your car gets a great professional wash when, where, and as often as you need it. Come in every day to wash your car!
Professional detailing, amazing value
In addition to our unbeatable Michigan car wash services, we offer the best in car detailing solutions. Customized to meet your unique detailing needs, each Fast Eddie's detailing package was designed to get your car in tip-top shape without breaking your budget.
Our detailing services include:
Interior Deluxe, which covers a quality, detailed clean of all seats, mats, floors, windows, door jambs, and ashtrays. This package also includes the application of Armor All on your dash, a tire shine, and air freshener services
Complete steam clean, which includes car wash, tire dressing, and dressing on dash and interior vinyl
Hand waxing, which includes car wash, and tar and smudge removal services